Access Your Business By Outreach
SPECIALISED VEHICLE OPERATIONS LTD or more commonly known as "SVO" was established primarily to offer a variety of different Mobile Event service solutions to a wide variety of private and public companies, Central Government Funded Agencies and Local Authorities.



These services ensure that every aspect of our clients' requirements is taken in to account, from initial planning through to implementation.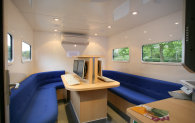 We supply a truly personalised service to meet your individual needs.
SVO can provide Specialist Exhibition & Display and Training Vehicles where and when required.
Our services include:
Supply of Exhibition & Display, Event, Training vehicles and trailer, Mobile Offices, Mobile Point of Sale Units, Mobile Health Care Units and many more for hire, lease or sale
Vehicle Operational services and Logistical support
Vehicle design and build facilities
Industry experienced support consultation
Practical systems implementation for Mobile Training
Promotional Display & Event Management Support
Community Access

Comprehensive project management services